Pistols Drawn – the site for nihilist anarchy – introduces a series of pamphlets–dozens over time–exploring language in the interest of destroying it. The radical Left has too long attempted to define the terms of what it means to resist the existing order, from the French Revolution to the Occupation Movement. Pistols Drawn hopes that these new pamphlets give the not-left ammunition in the war against language-as-ownership. Words are the simple things we use to destroy politics, be they from below us, above us, or horizontally from our confused friends.
Each pamphlet will include words defining a form of our hostility towards the existing order.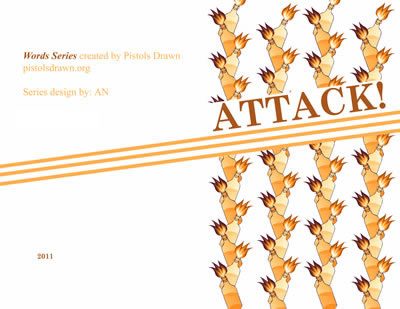 The first three:
Attack – Why do we attack? What do we attack? How?
Anarchy – Who are we in the moments when we are most true to ourselves?
Society – What form does politics and lexicon-of-the-left use to express itself?
More words are in the works!
ps Don't need no Kickstarter to put out some damn pamphlets!